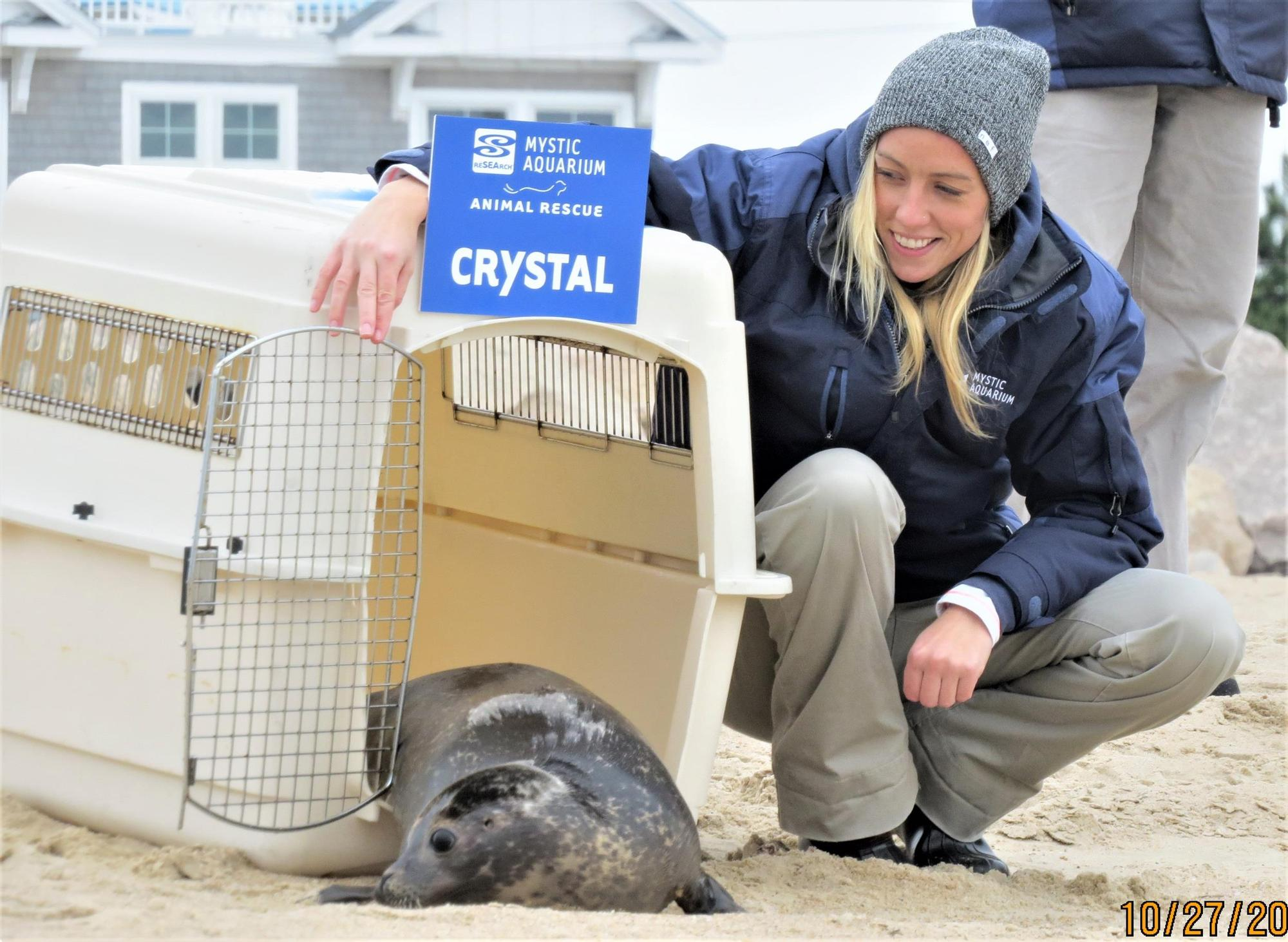 Tuesday Talks: Sarah Callan, Manager of Animal Rescue at Mystic Aquarium, "Southern New England Seals and Marine Mammal Rescue"
Mystic Aquarium responds to marine mammal and sea turtle reports and strandings across 1,022 miles of coastline in CT, RI, and Fisher's Island, NY. Over 300 first responder volunteers assist with responding to and monitoring marine animals reported to the program's 24-hour hotline. Over the years, a change in ocean temperature and ecosystem dynamics have had a direct impact on marine mammal populations within Southern New England. Since 2018, the seal population on Block Island, RI has continued to rapidly increase. Seal population dynamics combined with a rise in tourism have heightened the need for stranding program presence on island, particularly regarding human interaction cases. While logistics for island responses pose many challenges in itself, program opportunities to conduct critical research and data collection on local seal species have been limited due to minimal resources. Mystic Aquarium's Animal Rescue Program is building upon a long-standing relationship with Block Island Maritime Institute to create an innovated, multi-organization approach utilizing collaborative research and internship opportunities that will help expand program capacity. Likewise, building relationships with regional researchers and state entities is providing new opportunities for population studies and unique views into predator-prey interactions. With the ever-changing state the ocean ecosystem is in, partnerships and collaborations across various stakeholders within the community are more imperative than ever.
As a Connecticut native, Sarah grew up spending time along the Connecticut and Rhode Island shoreline and always felt a connection to the ocean and its marine inhabitants. After graduating from St. Lawrence University with a Bachelor of Science in Psychology, she spent the next seven years living in different places around the world; learning as much as she could about various aspects of the field and different animal species at multiple facilities. Her post-graduate internship and work experience took her to Queensland, Australia's Currumbin Wildlife Sanctuary Veterinary Hospital, where she assisted with the treatments and medical care of native species. In 2010 she made her way to Oahu, Hawaii where she worked for the Waikiki Aquarium with critically endangered Hawaiian monk seals and various fish and invertebrate species. In addition, she volunteered at the Honolulu Zoo with the husbandry and care of chimpanzees, giraffes, and fennec foxes. In 2013, Sarah began volunteering with NOAA's Hawaiian Monk Seal Health and Disease Program and assisted with field responses, sampling, data collection, and rehabilitation care for Hawaiian monk seals around the Hawaiian Islands.
In 2015 she had an opportunity to spend 4 months on an uninhabited island, Laysan Island, in the Northwestern Hawaiian Island Papahānaumokuākea Marine National Monument. During her time on the island, her work consisted of conducting population counts, behavioral surveys, and the tagging and monitoring of weaned pups. Being 1200 miles away from civilization, Sarah expected to observe Hawaiian monk seals and shorebirds in their natural habitat without the direct impacts from humans, however the effects were seen daily in the form of marine debris and single use plastics. Due to this, her responsibilities also included regular seal and albatross disentanglements. Soon after returning from this remote field work, Sarah was offered a position at Mystic Aquarium and couldn't be more grateful to be in a role where she helps give animals a second chance at life while having a platform to spread awareness about the conservation issues our ocean faces today. One of her favorite aspects of her job is getting to work alongside first responder volunteers and community members towards ocean stewardship and protection of local marine life.