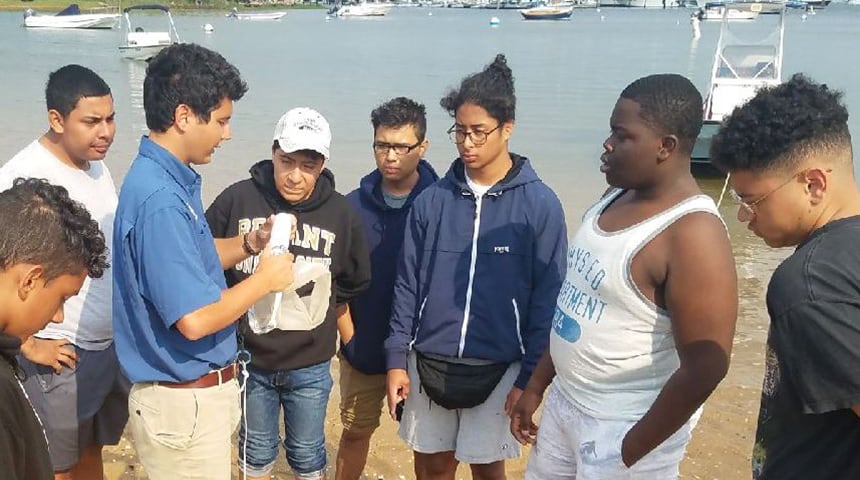 Students Explore Block Island with Natural Purpose
Most of the teenagers arriving on Block Island this summer, at least those affiliated with The College Crusade of Rhode Island, are coming from communities covered in pavement. Many had never been on a boat before and most had never set foot on New Shoreham.
The students are making a good first impression, with their observations, curiosity, and passion for the environment, despite living among more gray and black than green and blue. The island community has embraced the out-of-towners from Providence, Central Falls, Pawtucket, Woonsocket, and Cranston.
"We throw a lot at them and it's amazing what they absorb," said Valerie Preler, program director for the Block Island Maritime Institute (BIMI). "I learn a lot by watching what they see and what they say."For the past 10 years the BIMI's Dolphin Program has worked with and learned from students from underserved communities from Rhode Island, New Jersey, and New York City. Last year BIMI partnered with Providence-based The College Crusade of Rhode Island, as Block Island hosted a group of students from the college-readiness and scholarship program for middle-school and high-school students in low-income urban school districts for a week of learning and fun.
This year the partnership was expanded, as the Dolphin Program, named after its founder Eileen Dolphin, focused its attention on The College Crusade of Rhode Island students for five weeks.
From July 9 to Aug. 10, about 40 students total in grades 8-11 will spend a week living on Block Island and learning about ecosystems, biodiversity, and sustainability.
The mission of The College Crusade is to increase high-school graduation, college and career readiness, and college completion for youth in Rhode Island's low-income communities. The organization supports about 4,200 students in middle school, high school, and college annually. Students join the program in grade 6 and continue through the early years of college, if they attend a public college in Rhode Island.During their Monday-through-Friday stay on Block Island, the students develop interdisciplinary skills, such as communications, self-confidence, and leadership capacity, according to Lauren Schechtman, director of middle-school operations for The College Crusade.
They learn to problem solve, study ecology by exploring the Great Salt Pond, and discuss the island's different levels of biodiversity.
During their visit to the museum at the Block Island Historical Society the students learn how colonists deforested in the island in the 1660s, how the island's swordfish population was depleted by overfishing, how the introduction of deer in the 1960s for hunting purposes has led to the island's current overpopulation problem, and why there is less bird migration to the island — more people and a growing population of feral cats.
"It's an eye-opening experience for these kids, and for some it's life-changing," Schechtman said. "Our kids don't normally have access to these type of educational resources."
This Block Island adventure, like The College Crusade program, is free to the students and their families. They stay in a house rented by The College Crusade, enjoy dinners with Block Island families, and some New Shoreham restaurants help feed the island's young guests for free.
Besides visiting the island's Great Salt Pond, the students go bird banding with The Nature Conservancy, learn about the Block Island Wind Farm, take a night-sky walk, tour New Harbor on the island's west side, and conduct a beach cleanup.
They also enjoy kayaking and/or paddle boarding, a beach visit, and fishing by the Coast Guard Station.
Next summer, Preler hopes each group of students will be able to stay a little longer.