The aquarium will reopen and all other programs will restart in early summer 2023…stay tuned. To join our email list for updates, contact us at info@blockislandmaritime.org. We are now taking applicants for our summer internships. The new deadline for applications is February 20th, 2023.
Do you love being in and on the water? Do you have the desire to share that love with others? The Block Island Maritime Institute endeavors to inspire our visitors to learn to love Block Island through hands-on exploration of marine science and maritime activities. To do so, we need people that are excited to to work with other people, like working outdoors  and have experience and education in marine biology, oceanography and  related degrees. Visit our Careers Page to learn more.
Looking for something to do during the long cold winter nights? Watch our 2022 Tuesday Talk series on You Tube and plan to come out to see ome of our increasingly popular talks in Summer 2023. Tuesday Talks are held each Tuesday night at 7 PM between July 5th and September 1st. We sponsor a wide variety of speakers on mostly maritime topics.
2022 Tuesday Talks
June 28th: Alyson McCann, URI Cooperative Extension Water Quality Coordinator, "PRIVATE WELL WATER WORKSHOP FOR BLOCK ISLAND."  A public service provided by BIMI and URI.
July 5th: Dr. Helen Rozwadowski, Professor of History, founder of the Maritime Studies program Univ. Of Connecticut- Avery Point, and author, "VAST EXPANSES – A HISTORY OF THE OCEANS" (her most recent book and the talk title).
July 12th: Erica Cirino, science writer, artist, and author "THICKER THAN WATER: THE QUEST FOR SOLUTIONS TO THE PLASTIC CRISIS" (talk title and book title).
July 14th: Amanda Fairbanks, journalist and author of 2021's best seller, "THE LOST BOYS OF
MONTAUK" (talk title and book title), Joe Houlihan, moderator.
This Thursday talk presented in conjunction with the Island Bound Bookstore.
July 19th: Dr. Lindsay Green-Gavrielidis, Assistant Professor, Dept. of Biology & Biomedical Sciences, and Lead Investigator-Marine Ecology Lab, Salve Regina University, "THE BENEFITS AND PROGRESS OF SEAWEED AQUACULTURE IN NEW ENGLAND."
July 26th: Dr. David Bethoney, Executive Director, Rhode Island-based Commercial Fisheries Research Foundation (CFRF), "THE CFRF: WHO WE ARE AND WHAT WE DO", COLLABORATIVE FISHERIES RESEARCH IN NEW ENGLAND.
August 2nd: Dr. James Ludes, Executive Director, Pell Center for International Relations & PublicPolicy, "A NEW COLD WAR: DISINFORMATION, POLITICAL WARFARE, AND INFLUENCE CAMPAIGNS TODAY."
August 9th: Dr. Michael Oppenheimer, Albert G. Milbank Professor of Geosciences and International Affairs, Princeton University, and co-author IPCC climate change reports, "CLIMATE CHANGE, SEA LEVEL RISE, THE US POLICY LANDSCAPE, AND IMPLICATIONS FOR BLOCK ISLAND."  Co-sponsored by the BIHS.
August 16th: Jon Dodd, Executive Director, Atlantic Shark Institute, "BLOCK ISLAND'S ICONIC
VISITOR – THE GREAT WHITE SHARK." (Not yet available online)
August 23rd: Richard Karney, Shellfish Biologist & Director Emeritus, Martha's Vineyard Shellfish Group, "WE SPAWN MILLIONS: SHELLFISH CULTURE ON MARTHA'S VINEYARD."
October 12th: Keith Lewis speaks about his newly published book THE OLD MAN: A BLOCK ISLAND SEA CAPTAIN AND THE WOMAN HE LOVED (Not available online)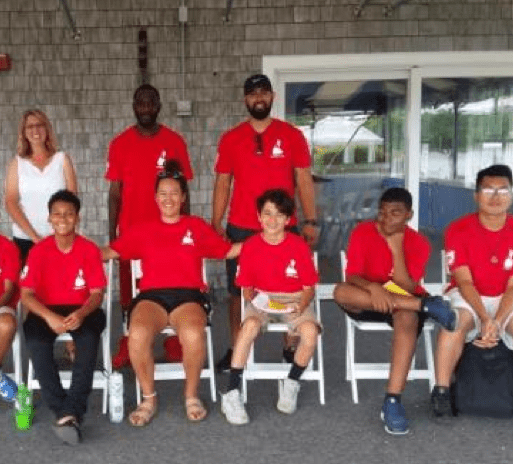 News
The island as classroom:
The College Crusade comes to Block Island
The College Crusade visits Block Island. Standing, from left, Block Island Maritime Institute Program Director Valerie Preler, College Crusade Teachers Harry Moore and Omar Valerio. Seated, from left, are students Ricardo Vicente, Kaheim Horacius, Kaishawn Goncalves, teacher Genesis Castaneda, students Matheo Perez, Leo Chan and Alan de la Cruz. Photos by Lars Trodson.
Giving To BIMI
BIMI greatly appreciates your support. Consider making a donation today. Your donation directly supports our mission, "to provide educational experiences and hands-on exploration to inspire appreciation of the extraordinary saltwater environemnt around Block Island."